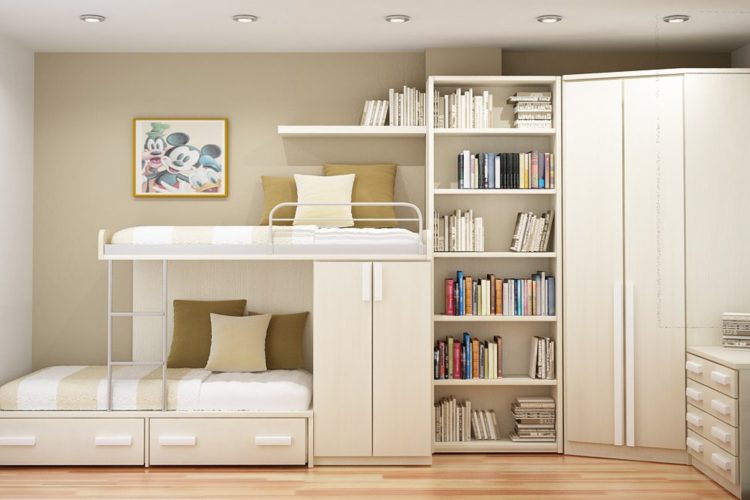 Designing a small bedroom can be tricky, especially when you do not want the elements in your room clashing with each other. Additionally, intuition does not help as much when there isn't much space available to experiment around with. Here are the top 10 unique ideas to help you design a small bedroom.
1. Place your bed against the wall
The important thing to remember when arranging a small room is to utilize the space to the highest extent possible while still being in style (make sure to include enough space for storage too). A bed against the wall feels cosier. You can then utilize the wall space for posters or wall hangings. For a playful look, use shelves and DIY all the way to decorate the shelves.
2. Use the wall as a place for art
A small bedroom can turn into a vibrant room full of energy. Use the wall for some bold designs. Use removable wall decors, wall hangings, or even a graffiti wall treatment for an urban style.
3. Bed storage
For a small room, the best bed would be one that comes with a storage box built into it, thus serving as a multi-functional furnishing.
4. Make the most out of a cramped corner
Did you ever notice how the cramped corners of your room can turn out to be the best places for storage? A tall rack, stacked with shelves for storage, is the best way to utilize the corners of your bedroom for maximum storage. You would be surprised to see how some thin racks slide perfectly between the other furnishings in the room.
5. Mirrors
Mirrors work wonders (like magic!) to make a small room look big and bright. It can also be your canvas of DIY. Use big mirrors that reflect light well to give the impression of a large area for any small rooms. The mantra here to go by is the bigger the better.
6. The secret spaces
A tiny bedroom can be elevated in style by creating spaces within the spaces. Delicate and graceful curtains will add serenity to your bedroom. Hanging lights such as pendant lights go even further to add more elegance. Instead of using a floor lamp, the hanging lights save space and also brighten up the room without taking up any extra space on the floor.
7. Embrace Room Dividers
Do you want all your valuables within reach in your bedroom? With a petite room, book shelves that double as room dividers are your answer then. Do not worry about not letting light stream in through this, as it is still possible.
8. Work with layered art
Framed art work is the best to show off your artistic side in a small bedroom and does all the more to make your room even cosier. A hanging piece of art on the wall does not waste any extra space and is the best way to show your treasured art.