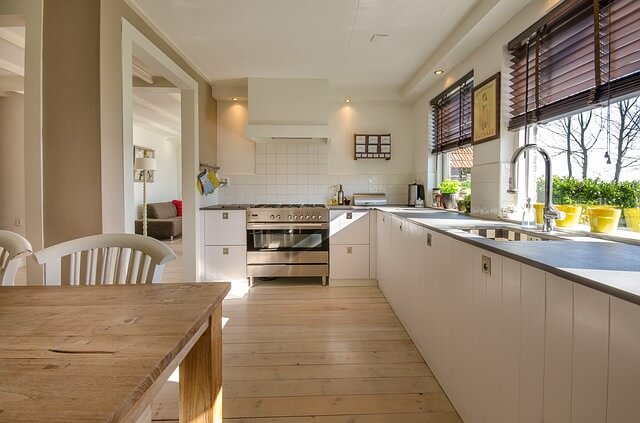 The kitchen is the heart of every home. For this reason, many strive to create or even make their kitchens more functional, practical, and modern. Most homeowners take on a kitchen remodeling project at least once every five years just to ensure it doesn't lose it purpose or become outdated. Unless you plan to simply give the walls a new lick of paint or just need to replace the countertops, you'll need a good plan to ensure everything is appropriately covered. It's only with a good plan that you can transform the kitchen into a full and more functional one, and never have to spend more than you have to. Discussed below are a few tips and ideas how to give your kitchen the ultimate transformation.
1. Countertop Replacements
While the type and quality of countertop in your kitchen depends on how much you wish to spend, it's advisable to make the best out of your kitchen countertops. Invest in a slightly larger countertop for improved functionality and performance (this, of course, depends on the amount of available space).Consider replacing the current countertop with a 24-25 inch one. This should give you a bit of overhang .This should protect your cabinets from dripping juices, water, and even wine. Some of the best and recommended countertops for kitchens include quartz, granite, recycled glass, butcher block, and laminate.
2. Cabinetry and Shelves
Cabinets are an integral part of every kitchen. You therefore need to invest in both open and closed cabinets to keep/store various items in the kitchen. Planning well on where and how the cabinets and shelves should be installed can save you lots of kitchen space. Open cabinetry, for instance, gives your kitchen a spirited and more interesting look. Open cabinets also encourage increased air circulation in the same, thus a reduced risk of stale air.
3. Flooring
A Good quality, comfortable, and durable floor is essential for your kitchen. You need a floor comfortable enough to allow you to prepare and cook meals without feeling the hardness on the floor. Most people and professional cooks prefer cork or wood floors for their kitchens. Wood is not only comfortable on bare feet but also gives your kitchen a boost, aesthetically. Remodeling experts, however, recommend going for larger tiles for kitchen floors. The larger the tiles are, the fewer seams there will be, hence very few bits of food will be trapped in the seams.
4. Lighting
The kitchen needs to be adequately lit at all times. While it is advisable to take advantage of natural light, you should consider investing in the best quality and energy efficient light bulbs for your kitchen. Although many people seem to prefer recessed lighting, it would be best that you invest in ceiling mounted or overhead lighting fixtures. Overhead bulbs light up rooms much better than the surgically placed recessed ones. If some cabinets or shelves are blocking light under them, have under-cabinet lighting installed to cover the blind spots.
If you need to restock kitchen appliances, you then need to go for highly rated and energy efficient appliances. It's with energy efficient appliances that your energy bills will be on the minimal. Consider investing in aluminum or stainless steel fixtures too. This is particularly important for sinks, taps, and other facets.