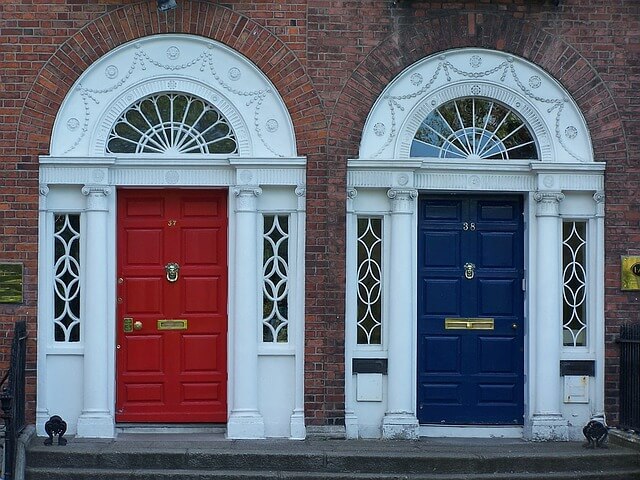 Wood, steel and fiberglass are the three most popular types of exterior doors. Installing a new exterior door offers plenty of benefits such as increasing the value and curb appeal of your home. There are several factors that will affect your decision when choosing a door such as the design or style you want, your budget and your location.
Wood Exterior Doors 
Wood exterior doors are the most popular option. These doors offer the most decorative options and lots of other benefits such as the ability to be stained or painted. Wood doors are also made stronger today. You can choose from various finishes and personalize your door's decorative glass. These doors are heavy and thick, but they're not as secure as steel or fiberglass doors as they can be kicked in. It is also not a suitable choice if you live in an area with a hot climate as the wood can swell and cost you money and time fixing it. If you want a traditional feel for your home and your priority is not top security, wood exterior doors are a good option.
Steel Exterior Doors 
Steel exterior doors are energy efficient, but your design options are limited. This type of door is ideal for those who reside in areas that often experience harsh weather conditions such as tornados and hurricanes as steel doors are very durable and capable of enduring all the elements. Steel exterior doors also don't crack, warp or chip. Many of these doors have a fireproof option as well. While steel exterior doors can get dents, you can easily fix these flaws and restore the door's former state. Steel doors are one of the most cost efficient, secure and durable doors today, so it is a good option for those who wantto save money and guarantee the security of their home and family.
Fiberglass Exterior Doors 
Fiberglass exterior doors are perfect for those who want a very secure, energy efficient and tough door. This type of door feels and looks like wood, but will not warp, peel, crack, swell, expand or scratch like wood. Fiberglass exterior doors are also 3 times stronger than wood doors. Moreover, you can easily stain or paint them. The wood grain texture of a fiberglass door makes it look like a real wood door when stained or painted. In fact, fiberglass doors look like wood entries so much that it is difficult to tell them apart. Fiberglass doors have great insulating quality and can improve your home's security protection, while maintaining a traditional motif with less maintenance.