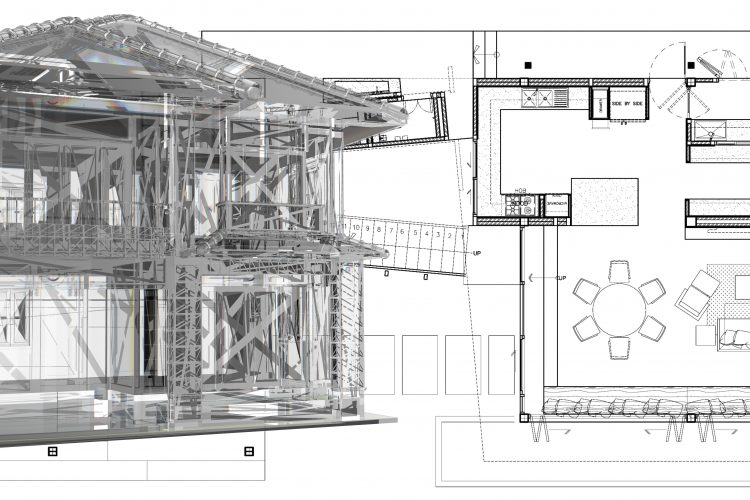 When you build a new home, you have an opportunity to create something unique, something that is truly yours. It is as much a chance to express your identity as it is a way to get something that fits your needs. With the right architect and construction team, it is possible to create a house that is deeply reflective of your unique personality rather than a mere copy of what everybody else is doing. To help you come up with some ideas, here are ten suggestions for things you can add ranging from purely aesthetic to the practical.
Practical Ideas
Bookcase Stairs
When constructing a multi-story house, do not let the staircase become wasted. It is possible to turn the inside of every step into a shelf that can be used to house a small library. The walls of a stairwell can also be used as additional shelving space for your book collection. If you are not a collector of books, you can also use these shelves as additional storage space for a wide variety of personal effects or personal memorabilia. The only caveat is to keep your shelves in order so nobody trips on the way down or ends up stepping on something they shouldn't.
Storage Under Stairs
Not strictly unique, but one practical design option is to turn the area underneath the staircase into another storage area. By crafting drawers from the area underneath the staircase, you have additional room to store a wide variety of personal effects. As with the previous suggestion, this idea helps to maximize the efficiency of your floorplan. This makes the under-stair storage compartments a perfect idea for individuals seeking a multi-story building while minimizing the house's footprint.
Vertical Herb Garden in the Kitchen
Those with a combination of a green thumb and cooking skill may want to set up shelving space in their kitchen for a vertical herb garden. By setting up an array of specially designed shelves, you can store numerous potted herbs and plants useful for cooking. If properly set up to allow for plenty of exposure to natural sunlight (and, if you can afford it, a decent irrigation system), you can grow a small garden right in the kitchen. This will give you easy access to various vegetables and spices within arm's reach while cooking.
Backyard Office
A compromise between the freedom of working from home and the structure of having a dedicated place to work out of, the backyard office can help you feel like you're getting out of the house without having to get away from the house. If set up correctly, you can also get the feeling of working outside while still having all the necessary components of the modern telecommuter. This can also free you from household distractions that can hamper your productivity and make it so your attempts to work from home turn out better than they would otherwise.
Aesthetic Enhancements
Forest Chandeliers
Specially designed chandeliers can be placed in your home that are designed to cast shadows resembling trees when the lights are turned on. For those who enjoy the idea of being out in the woods at night, this can be a perfect way to provide a nature theme to the room.
Door of Swatches
Stain-glass doors are a good way to add a bit of class to an entryway. This can also project colors onto the floor when the sun is out and deliver a bit of artistic beauty to the room. Having a stained-glass door with a variety of color swatches is a good way to express your love of art and color. Every time the sun is out, a wide variety of colors are projected onto the ground or walls. This color palette can serve to inspire the artist in you or living in your home.
Table Fire Pit
Why settle for a standard outdoor fire pit when you can set one up in your house on a table? By installing a protective case (don't want anybody getting burned afterall) that leads outside, you can have all the aesthetic comforts and convenience of a fire pit right in the middle of your own home. This setup can, depending on style, add anything from a rustic to a high-class feel to what would otherwise be a plain room. The flames can also act as a source of warmth during an unusually cold winter, though we recommend isolating the flames from the rest of the house to keep them from adding to your air conditioner costs!
Fun Ideas
Treehouse Room
Want to give your kids the experience of a treehouse even though you lack carpentry skills or, well, trees? With the right color scheme and an elevated alcove to sleep in, you can create a room that feels like a treehouse without having to actually build one. If you have a spare bedroom, turning it into a treehouse room can also make it something special and unique for your kids.
Backyard Theater
By setting up a projection screen and a special area in your backyard, you can create a personal outdoor theater. Experience the great outdoors while watching a movie that is fun for you and your family, creating a unique twist on movie night!
Hammock Over Stairs
Another idea for those opting for a two-story home: depending on the design of the stairwell a hammock can be a fun addition to the overhead space. Not only do you create an additional place to relax, but it also serves a functional purpose as a safety net should somebody fall over the balcony over the staircase.
These are just a few ideas to help get things started. When building your dream home, the only limit to what you can do with it is your imagination. There are a wide variety of ways that you can punch up a house to make it more of a personal expression. By turning to a professional contractor like Watlee Construction, they can also provide practical consultation to help make your dreams come true.