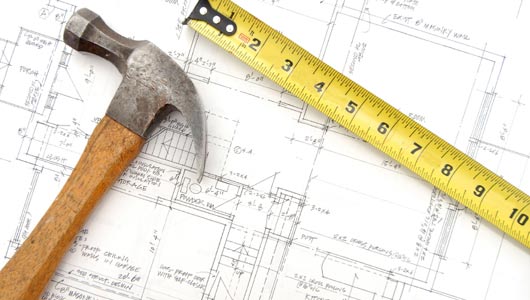 When people look to remodel their homes, whether they are remodeling the kitchen, bathroom, or the entire house, they often wonder when. After all, remodeling is an expensive, time consuming prospect, and you want to make sure the job doesn't drive you out of the house at the worst possible time. As such, it is best to time your remodel around major life events, or failing that, once every couple decades. We list out a few of the more specific signs that it is time to remodel your home.
Expanding or Shrinking Family
You're a newly-wed couple with a baby on the way, but you do not want to give up the house you're living in. Sure, you got a two-bedroom place, but now the second bedroom is an office, or perhaps you've got another young one on the way. Regardless, if your family is expanding, you may need to add another room to the house to accommodate. Sometimes you can get away with skipping the remodel if your children can share a room, but other times additional space may be required.
Of course, once the children move out, that leaves the question of what to do with all that free space. At this point it is time for another remodel to make use of that extra space… or to downsize as the case may be. We recommend turning those additional bedrooms into guest rooms for overnight visitors.
Ancient Appliances
If walking into your kitchen makes you think of an old movie, it is time for a kitchen remodel. There are many more efficient appliances out there these days that will pay for themselves when compared to what you may be using today. Furthermore, deteriorating appliances break down more frequently, causing your repair costs to skyrocket.
Even if your kitchen has new appliances, if the floorplan is more than a couple decades old you may consider doing some work. In the past, the kitchen was separate from the dining and living areas, but modern floorplans tend to remove barriers from these areas. This allows individuals who have the responsibility of cooking to socialize with friends and family. An open floor plan creates a more welcoming atmosphere and gives you more space to work with.
Structural Problems
There are times when a remodel is no longer optional. Structural issues like foundation problems, walls destroyed by termites, cracked support columns, and more all point to a pressing need for a remodel. At this point it is not only a matter of comfort but safety. If there are clear signs of damage in your home, or if you even notice structural damage on inspection, then hire a contractor to help with the remodel. This is important to preserving the integrity of your home and at this point it's a safety issue more than an aesthetic one.
Quality of Life Impact
Take a good honest look at your home and ask yourself: "is this a place I want to show to company?" There are other concerns such as whether or not you have enough space to accommodate the visit of your friends or the friends of children, and whether anything about the home is an inherent hazard you just didn't think of before. Regardless of what specifically it is, if your home is negatively impacting your quality of life, there is a problem. A remodel can be just the thing to bring a home up to a comfortable living standard for you and your family.
There are ultimately many signs that point to a needed remodel, and many reasons to carry it out. If you've determined that it is time to remodel your home, feel free to get in touch with us and we will help you put together a plan to turn your current house into a dream home.